Adventure VR is the newest, most ambitious attempt here in Hawai'i to capture the futuristic tech of virtual reality and offer it to the masses in a palatable, user-friendly form.
Owner and developer Gerard Banel kindly offered me a chance to try it for myself. Here's the lowdown on what it is and what you can expect.

BACKSTORY


Banel, a 3D engineer, came to Hawai'i some 20 years ago to work on the ill-fated CG film Final Fantasy: The Spirits Within.
The film flopped, but he loved Hawai'i and didn't want to leave. He developed Syflex, a 3D cloth simulation plug-in used in blockbuster franchises like The Lord of the Rings, Harry Potter and more. But Adventure VR, which took about a year to develop, isn't his first foray into VR technology.
"(I) developed VR applications in the mid-'90s for a Japanese company," he says. "At the time, it was too early for VR, and it went dormant. Twenty years later, it's now the right time for VR, and it's back under many different forms: VR, AR, XR."
Banel developed almost all of the game himself, though he did have help from a few contractors and from students at University of Hawai'i, who tested the game and offered feedback on difficulty, motion sickness and something Banel calls the "wow" factor.
"To test the 'wow' factor, we counted the number of exclamations ('wows' or similar) per person during the game," Banel explains. "I wanted to get at least one every five minutes, which meant many virtual worlds and a variety of actions and discoveries. I was satisfied with the results: the average was 17, so it's a '17-wow game.'"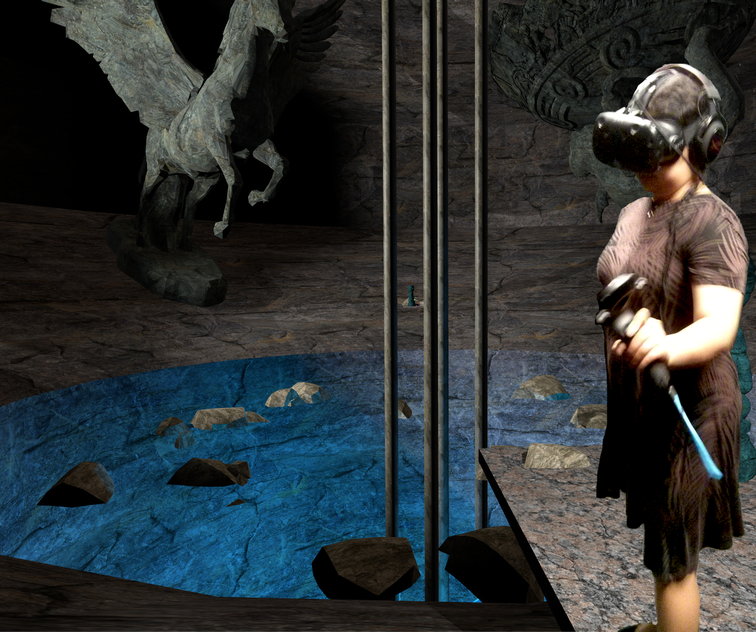 The author "inside" one of the virtual worlds of Adventure VR.

THE EXPERIENCE


On a sunny Saturday in June, I corralled three friends into accompanying me to Adventure VR's nondescript headquarters above Logos Bookstore in Kaka'ako.
Adventure VR's current program supports up to four players and is split into three parts: a spaceship, a fantasy castle and a steampunk-style clock world. Each area has its own objectives and puzzles to solve before players can move on to the next section. Teams have one hour to finish all three sequences.
Each player must wear a headset and headphones, and interact with the game world via two handheld controllers (there's only one button to press to "grab" things, so it's very simple). We each had our own cubicle of sorts to play in (it allows you to move safely around in the VR world without worrying about bumping into things in the real world).
Banel says the game was designed for anyone ages 8-80, so the puzzles aren't difficult (and there's no fear of motion sickness, honestly). Players can chat aloud to help each other out, and Banel will even give hints if he notices players getting stuck for long periods of time (yes, we all needed hints).
I don't want to give away the puzzles, but I will say that the challenge lies not in finding solutions, but in recalibrating your mind, as it were, to think through the virtual environment.
The mind is a powerful thing — and what you see feels real, even if you also know it's just a game. When I saw things on the ground, I took care to step around them. When I was standing on the edge of a long drop, I sidled away. Pick up a shield, and you'll automatically find yourself holding your (real-life) arm like you were Captain America — the same goes for a bow and arrows.
This being the case, I also found my spatial awareness sorely lacking. I got too focused on what was in front of me versus around (or even behind) me. I needed a lot of hints to solve some of the puzzles ... and I spend a goodly chunk of my life playing video games.
Overall, though, the experience was really fun (if surprisingly physically tiring). Adventure VR hits all the right notes and is a worthy afternoon's delight for any family or group of friends. There isn't much replay value for now, but Banel says that if things work out, he plans to develop new scenarios. I, for one, look forward to that.

Adventure VR is located at:
760 Halekauwila St., Suite 208.
To book a room, visit adventure-vr.com